Jim Hearne's old computer stuff.
Random stuff for the old computers I have. Click most pictures for bigger versions.
Microbox 2
Acquired about 10 years ago, untouched since, only recently found articles about it in old ETI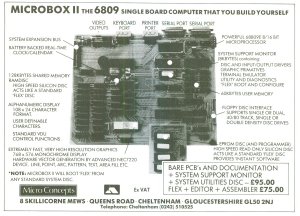 ---
Microtan 65
Owned from new, built from a kit.
---
Powertran Cortex 2
Unbuilt kit acquired August 2011 from Ebay, now built and running with dual floppy drives.
Cortex colour bars test program from build manual (in Wav format).
This is 30 seconds of output from the cassette interface test program, alternate 0.5 second bursts of 1's and 0's (Wav format).
This is the program above, as per the build manual in (Wav format).
Scans of all the Cortex PCB's at 600dpi
Cortex 2 review from PCN Dec 22 1984.pdf
Excel version of the Cortex main board parts lists with various notes and comparisons of early and late boards.
---
BBC model A and BBC master Doomsday system.
Model A owned from new, had Doomsday system for about 15 years, used to work but both monitor and laserdisc player have now died, will fix one day.
Disc images of floppy discs for the Torch Computers 68000 Unicorn BBC co-processor, came with a tablet I bought, I don't have the hardware for these.
All are 80 track Double sided, single density, 250K
Prog dev pack V2.0 7 discs.zip
Hard disc utilities disc V4.1.zip
standard utility disc V2.0.zip
unix upgrade V1.0 to V2.0 3 discs.zip
Perfect calc perfect writer perfect filer.zip
---
Defender Arcade machine.
Ok, not a complete machine but I have a complete set of PCB's for one along with the wiring loom, full control panel, psu and the top panel artwork.
Needs a cabinet and monitor.
Worked last time I tried it, mind you that was about 10 years ago.
Maybe for sale..............
---
This page is very under construction.
Email: Jim Hearne